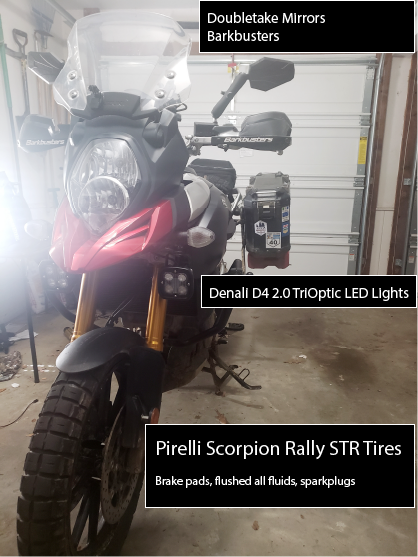 I've been adding a few goodies to my bike…. and also looking for another lightweight bike for some off-road adventures.
I love the Denali lights – People in cars see me much more clearly. The lights were not as easy to install as I anticipated. While I purchased the V-strom fitment kit, I needed to find another bolt. I followed the installation instructions – had I just jumped in, I would have completed the electrical wiring installation completely before mounting the lights. After mounting the light bracket, gaining access to the switched wires was much more difficult. I ended up having to completely pull the dash / cowling apart.
I have mixed thoughts on the Perelli tires. I expected them to be a bit more off-road capable.
I like the barkbusters – they were easy to install and seem functional.
The mirrors are cool. The provide better visibility than the stock mirrors and are much more adjustable. I can put them exactly where I want them.