The official beginning of the Mid-Atlantic BDR is in Damascus, VA. Taking a queue from our Patagonia trip, the first day was intended to be an easier ride. This would allow us to fine tune any of our packing approaches and enjoy some of the North Georgia and North Carolina rides.
Dave and I began our ride from my house in Atlanta. We had our group hugs with my family as we set out. Curt had a work commitment and would meet us on the road. Our plan was to show Dave a bit of the local riding and history (without getting too early into forest roads). Dave and I started out on Route 60, taking some twisty roads through Suches.  Curt would be able to take a more direct route and we would meet on the Hiawassee River Blueway visiting the powerhouse and other historical sites.
As I drove by the turnoff to Curt's house and other friend's homes along 141, I flipped on the GoPro. I often have a melancholy feeling as I begin these adventures. I will miss the comforts of home, my family, and my dog. I will think of my dog often on this trip. Dave remarked about how long it takes to get out of Atlanta. In Maine, he has many dirt roads close by. We make a stop for gas as we leave the Atlanta suburbs and finally approach the Georgia countryside. Just before heading into the twistie area of route 60, we stop at a boat ramp. I get the rear facing GoPro ready to get some footage of Dave riding through the Georgia Mountains. A little girl puts her hand over her ears… Our bikes are loud, not Harley loud, but still loud.
We ran into a bit of rain, not a Georgia downpour, but enough for us to take shelter in Morgantown, GA under a leaky gas store awning while the rain passed. After the rain passed, we ended up heading to Ironhorse Motorcycle Lodge for our first evening. Curt arrived in minutes after Dave and I had pulled up to check-in.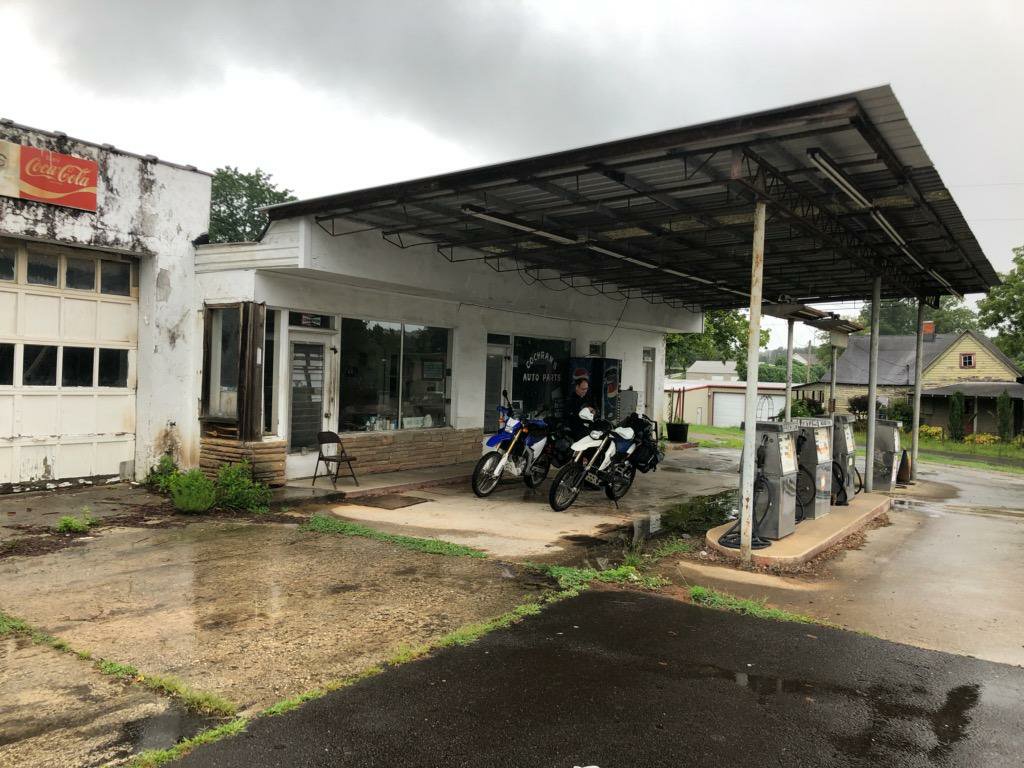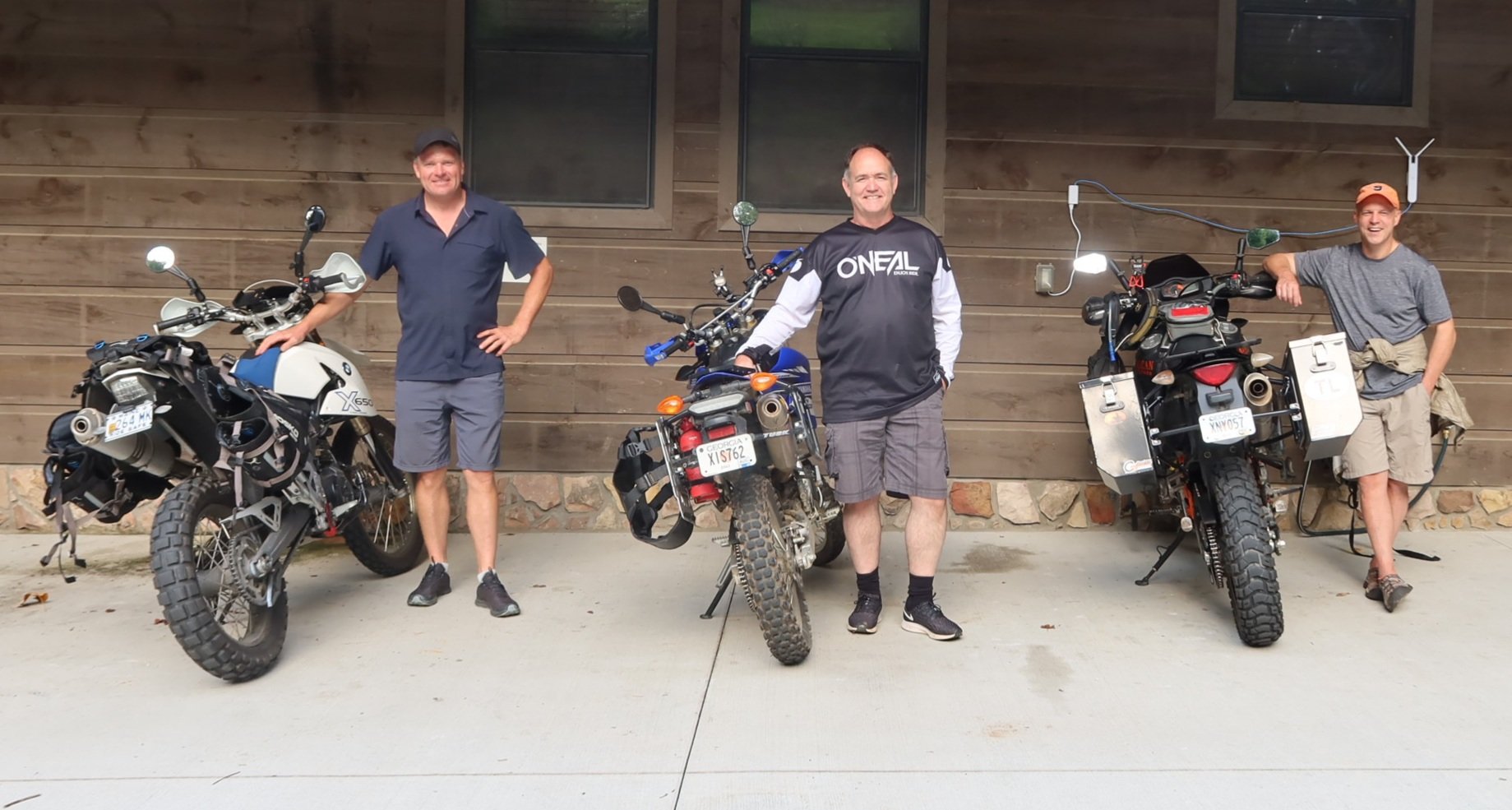 The stay at Ironhorse was un-eventful. I had been looking forward to the Prime Rib dinner and salad bar. This is my first indication that the changes made for COVID-19 will impact our experience on the trip. There was no longer an open salad bar and the chef's window, where previously, I requested my Prime Rib cooking temperature, was boarded up. Instead, young women delivered our orders to our outdoor table. My Prime Rib wasn't as juicy and rare as I remembered and the salad was un-inspiring. The pro-Trump T-shirt worn by one of the waitresses and the oversize Trump 2020 flags on the uphill residence hinted at what were about to find along the route.
We were curious about the "Sons of Dominion" staying at the cabin near ours. These Harley guys, dressed in their club jackets, were very polite. We didn't fully understand their club and they didn't socialize so much with outsiders. The traditional outside fire was helped along my a couple of these guys. We enjoyed beers and a nice evening near the outdoor fireplace before turning in.
Dave is an early riser – his wife calls him "sarge". We were up early, being the first for coffee and breakfast. My little WR250R was in stark contrast to the other bikes at the lodge.
We continued our ride to Damascus and camped for our first night at the outskirts of town. We had great weather for our ride and had our first "riding as a group" navigation snafu. On the way to Damascus, we routed around a county with a high number of COVID cases. There was only one other guest in the campground that night (a girl traveling solo). The camp host gave us a briefing on his thorough disinfection routine of the toilet facilities (although the trash can handles are not disinfected), the 300 lb bear that strolls through the camp most nights, and the copperhead that hangs out at the swimming hole.
I setup my traditional campsite which includes my hammock. We had a nice dinner in town, dropped by the local grocery store for beer, and headed back to camp. We enjoyed beers by the fire. I found myself sleeping after laying down in the hammock.