Riding from Alanta to Maine
I first met Dave, (aka BabySealGS) and his wife Jane (Jangerous) on last year's trip to Patagonia. As we were finishing our trip in Ushuaia and Torres del Paine, we began discussions of a next ride. We knew the Northeast Backcountry Discovery Route was under development and scheduled to be announced the following February. This was the beginning of our idea to ride from Atlanta to Maine using the East Coast BDRs. We would travel over 3,400 miles of mostly dirt / gravel roads across 13 states.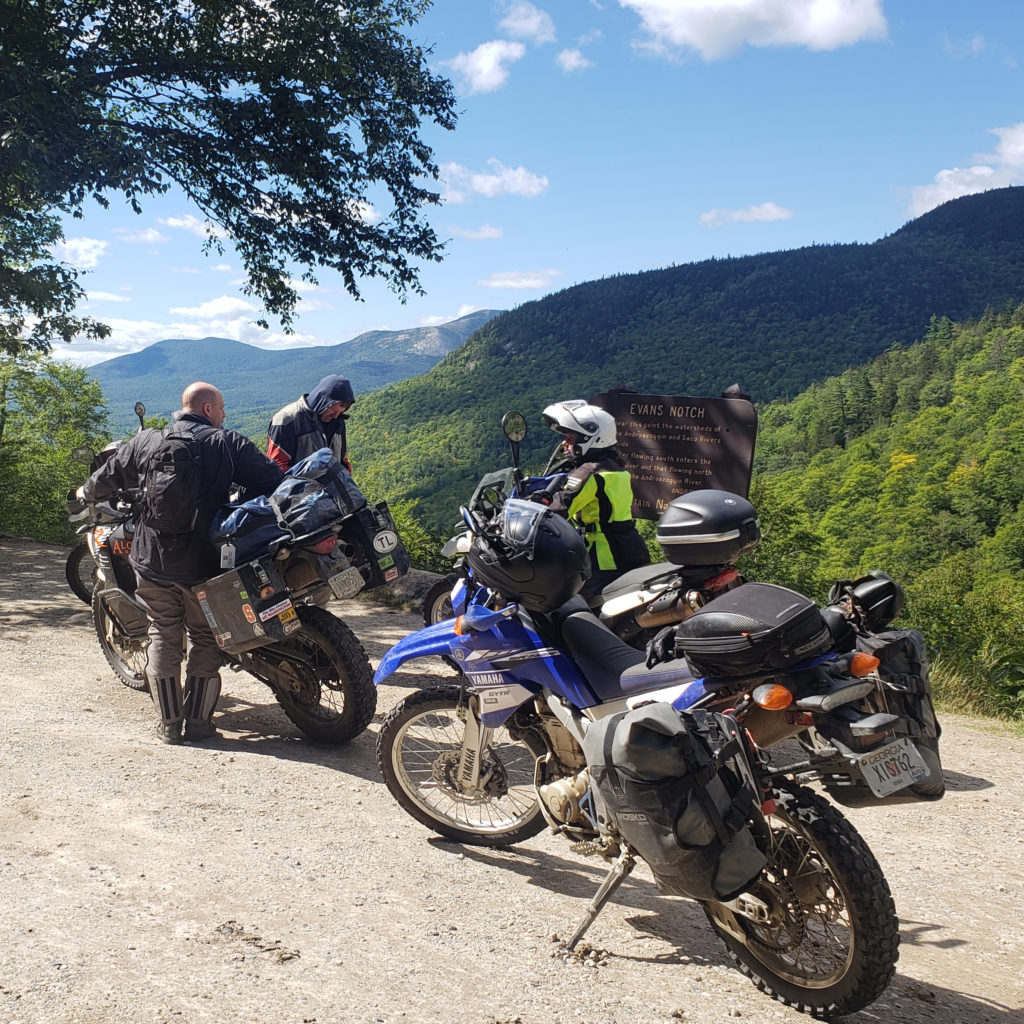 We talked about the right kind of bikes, the possible route options, lodging options, bike shipping logistics, and vacation scheduling. Jane had some work commitments and was unlikely to be able to ride the entire route. The Mid-Atlantic Backcountry Discovery route (MABDR) had been published with GPS tracks and a video showing our route from Damascus, VA to the New York border.
As the release date for the Northeast Backcountry Discovery route approached, I was surprised that there was not a premier screening available in Atlanta. I called my buddy Curt who heads up the Atlanta ADV Rider's meetup group. I found a venue and arranged for Atlanta's NEBDR film premier with the BDR organization. As an aside, Curt was also responsible for connecting me with MotoPatagonia where I had met Dave and Jane. It was fitting that the Atlanta ADV Rider's group and MotoPatagonia were the Atlanta MABDR film premier sponsors. Our event had about 50 people in attendance, many who were not familiar with Backcountry Discovery Routes.
I purchased a Yamaha WR250R from a fellow Atlanta ADV Rider, Nelson, and began my preparations for the ride. Dave purchased a BMW x650 Challenge for his ride. After watching the NEBDR film, this part of the route seemed more aggressive and better suited for smaller bikes than our existing rides.
When we started our planning, a pandemic never crossed our minds. We seriously considered postponing the trip due to COVID-19. Our decision criteria considered our health, the health of people we would come in contact with, and travel complications/restrictions we would need to comply with. Data would provide the basis for our decision and we felt this was a unique opportunity to better understand how different areas of the country were responding to the pandemic. A friend with a background in medical reporting was also studying the mental health impacts of the pandemic.
With family and friends at the CDC and my IT background, I created our "BDR COVID Tracker" . The rural nature of the trip and the COVID-19 health policies imposed by the Northeastern US states showed that the highest risk counties were here in Georgia. We would be able to pass through other high risk counties on our route quickly, take COVID-19 tests prior to entering the Northeastern US states, and take appropriate precautionary measures on the trip.
At one point, Nelson (who I purchased my bike from) was planning on joining us. In the end, Nelson was not able to join and Curt decided that he would join us for the MABDR. Curt had to prepare his bike rapidly. After riding the MABDR and finding we were a great riding trio, Curt was able to make the necessary arrangements to ride with us to the conclusion of the trip. See Curt's ADV Rider Ride Report: NEBDR and MABDR back to back during COVID 19.